Meet Our Donors
We thank all our planned-gift donors for their generous support. Here are some of their stories.
---
Robert Mihalcik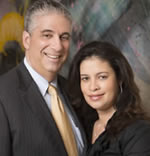 Robert Mihalcik, HCC Foundation Treasurer and Senior Vice President at RBS Citizens, and his wife, Mimi Rios-Mihalcik.
"Estate planning provides a great opportunity to leave a legacy. By planning ahead, you can fund scholarships to be awarded in the future that will allow students to receive the education that will better their lives — and they may better the lives of still others in years to come. You never know — you might just fund a student who changes the world! My wife and I are updating our wills to include a donation to HCC."
---
Roberta Hatch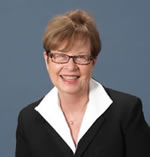 Roberta Hatch, Senior Vice President and Senior Trust Officer U.S. Trust, Bank of America Private Wealth Management. Roberta has agreed to join the HCC Foundation Board.
"I believe in the work the Housatonic Community College Foundation does to further the mission of HCC, which in turn has a vital impact on the educational, vocational and cultural life of our community. That's why I personally chose to make an unrestricted gift. I am very proud that my employer has a Matching Gift program, which increased the size of my contribution. To me, that says a lot about how invested Bank of America is in our community."
---
Barbara Johnson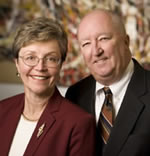 HCC Foundation Board Member Barbara Johnson and her husband, Carl.
"Housatonic Community College holds a special place in our hearts. Our son received his Associate Degree from HCC and because of that accomplishment, was able to complete his Bachelor's and Master's Degrees at four-year academic institutions. We felt it was important to acknowledge the impact the education he received at HCC had on his college career and ultimately, his professional success. We intend to show our appreciation through a planned gift to Housatonic."
---